Discord Public Listing Key Data and IPO Date
| | |
| --- | --- |
| Predicted IPO Date: | 2024-2025 |
| Total Revenue (2022): | $220 million (Predicted) |
| Total Funds Raised: | $995 million |
| Number of Employees: | 3,000+ |
| Founder: | Jason Citron |
| Founded: | 2015 |
| Headquarters: | San Francisco, California |
Overview
Analysts expect Discord to file for an IPO in 2024-2025.
The company will most likely list on the Nasdaq exchange or NYSE.
Discord rejected an acquisition offer from Microsoft in 2021 reportedly worth $10-$12 billion.
Discord is one of the fastest growing private companies in the world and is currently valued at $15 billion.
When Is Discord's IPO Date?
At the time of writing Discord has not filed for an initial public offering (IPO). This means there is no official IPO date for the company.
The market has been speculating about a potential Discord IPO since 2020. Rumors and speculation intensified after the company rejected an acquisition offer from Microsoft valued at $10-$12 billion.
Many criticized this decision at the time. But it appears the folks at Discord know what they're doing as the company reached a valuation of $15 billion only a year after rejecting Microsoft's offer.
Jason Citron, CEO and founder of Discord is yet to make any statements surrounding a possible Discord IPO.
How to invest in the Discord IPO
If you're looking to buy Discord stock before the IPO the number of options you have will depend on whether you're an accredited investor or a retail investor. Let's walk through each option.
For retail investors:
Investing in publicly traded companies that own Discord stock.
a) Sony ($SONY) – You've probably already heard of this Japanese powerhouse. Sony develops, designs, manufactures and sells consumer electronic products. The company was a lead investor in one of Discord's funding rounds in 2021.
b) Tencent ($TCEHY) – Tencent is a Chinese multinational company that offers a wide range of Internet and technology-based products. The company participated in Discord's $150 million funding round back in 2018.
Investing in the ARK Venture Fund.
The ARK Venture Fund gives retail investors a way to invest in privately held companies that traditionally are only accessible to accredited and institutional investors. The only way to purchase shares in the ARK Ventures Fund is via the Titan investing app. Although bear in mind it requires a minimum investment of $500. The fund's portfolio consists of public and private tech companies including Discord, Replit, Epic Games, Tesla and Nvidia.
Options to invest in Discord are limited as a retail investor. But by investing in these options you can gain exposure to Discord. The downside is the price performance of these stocks isn't directly connected to Discord's performance.
For accredited investors:
Direct Investments: This involves negotiating a deal directly with Discord or its existing shareholders. This route involves a significant amount of time and effort. Not to mention you need to be incredibly well-connected for Discord or its existing shareholders to consider adding you to the cap table.
Private Equity Funds: Similar to the ARK Ventures Fund, these are funds that pool money from multiple investors but focus purely on private companies. As an investor in the fund, you would own a share of its entire portfolio, which would include other pre-IPO companies.
VC Funds: These are similar to private equity funds, but they focus on investing in earlier-stage startups. VC investments are traditionally the most common route to invest in pre-IPO companies.
Equity Crowdfunding: Some platforms allow accredited investors to invest in startups and other private companies through crowdfunding. Examples include platforms like AngelList, SeedInvest, and CircleUp.
Secondary Markets: These are platforms that allow the trading of pre-IPO shares. Employees or early investors looking to sell their shares before the company goes public can list them on these markets. Popular secondary market platforms include EquityZen, Forge Global and NASDAQ Private Market.
Accredited investors have more options to invest in Discord shares compared to retail investors. In saying that, these options are inherently risky – which is always the case when investing in a private company.
Notable investors in Discord
The notable investors in Discord include:
ARK Venture Fund​​
Sony Interactive Entertainment​​
IVP (Institutional Venture Partners)​​
Franklin Templeton Investments​​
Fidelity Management and Research Company​​
Dragoneer Investment Group​​
Coatue​​
Baillie Gifford​​
Tencent​​
Greylock Partners​​
Index Ventures​​
Greenoaks Capital​​
YouWeb
Accel Partners​​
Benchmark​​
Source: Crunchbase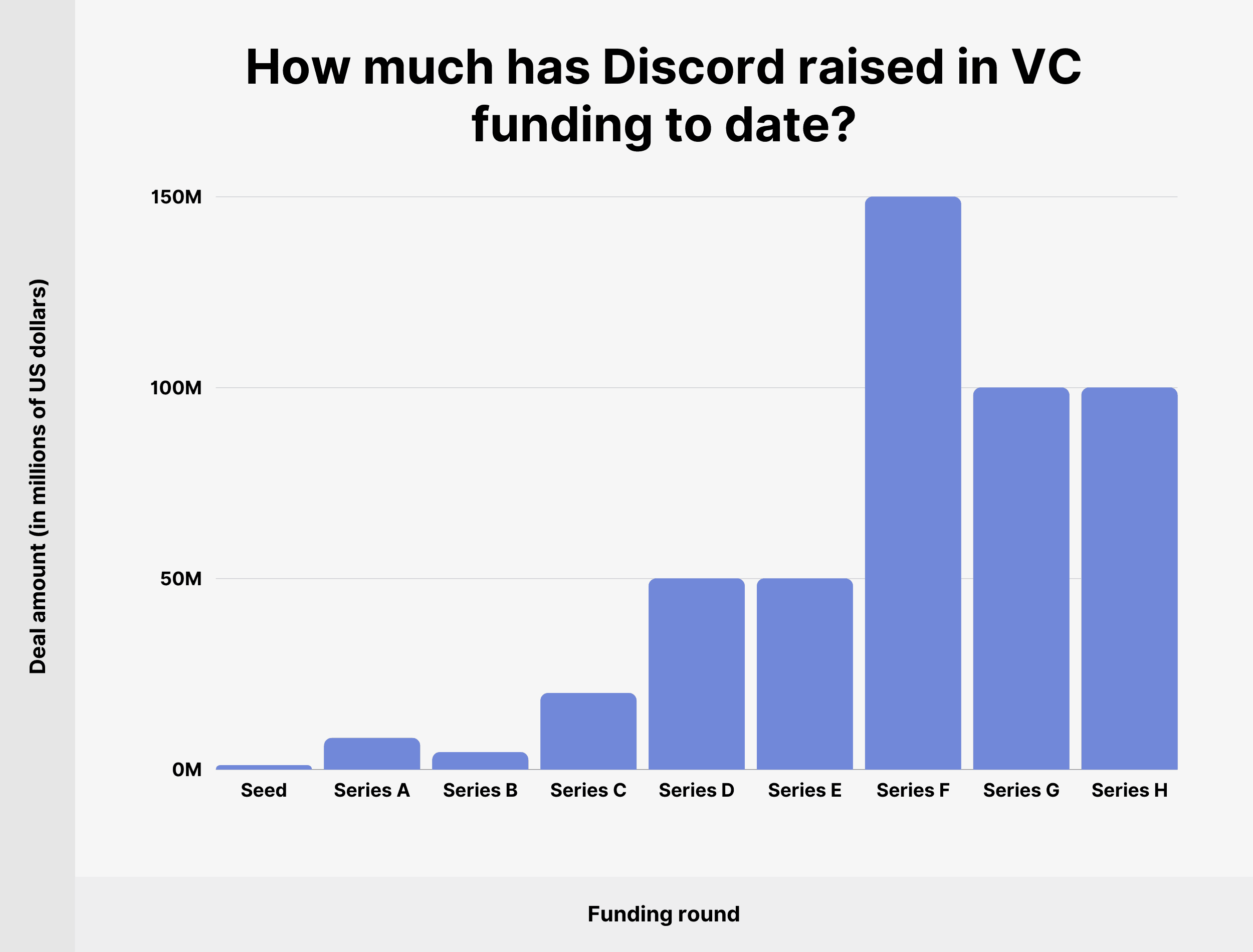 What's the market saying about the Discord IPO?
Discord is one of the fastest growing social messaging platforms in the world – particularly in the gaming community. Discord's popularity skyrocketed during the COVID-19 pandemic, growing from 10 million monthly active users to 140 million in 2021 with 300 million users having registered Discord accounts.
Discord's user base isn't the only thing that has experienced explosive growth. Discord's revenues are estimated to have grown by 25x from 2016 to 2020.
Discord annual revenue 2016 to 2020
| | |
| --- | --- |
| Year | Revenue ($mm) |
| 2016 | 5 |
| 2017 | 10 |
| 2018 | 30 |
| 2019 | 45 |
| 2020 | 130 |
Sources: Forbes, WSJ
Note: Since Discord is still a private company it hasn't disclosed its financials. All values are estimates.
This clearly got the attention of tech giants like Microsoft who reportedly placed a $10 billion bid to purchase Discord in 2021. In the end, Discord decided to remain independent and is still a privately held company (for now).
The likelihood of a Discord IPO comes down to several factors. These include:
Its ability to generate profits and add new revenue streams without hurting the user experience.
Appetite from Discord's management including senior execs such as CEO Jason Citron to take the company public.
Market sentiment around high-growth tech companies and macro market conditions.
The likelihood of Discord being listed on a public exchange like the New York Stock Exchange (NYSE) in 2023 is low. 2023 seems to be shaping up to be a quiet year for IPOs, with most private companies looking to postpone their IPO plans until 2024 and 2025 due to unfavorable market conditions.
How Does Discord make money?
In the beginning, Discord was an instant messaging platform that initially targeted gamers but has since expanded to include various communities. The platform generates revenue through its freemium business model that offers a free version of its service and a paid version called Discord Nitro. Discord Nitro is a paid subscription that offers users enhanced features, such as higher resolution video, screen share, animated avatars, and custom emojis.​
Discord also generates revenue through server boosting which starts from $4.99 per month for Level 1 and costs up to $69.86 for Level 3. Server boosting is a way for users to upgrade a Discord server to have added perks and benefits such as better audio quality, larger upload limits, custom emoji slots, etc.
Discord also partners with game developers who want to sell their products exclusively through the Discord platform. Discord earns a 10% commission on every game it sells, using its profits to reinvest back into the platform.
Who is Discord's competitors?
The instant messaging market is crowded. Discord is up against established players including Skype, Slack, Zoom, Teamspeak, and Mumble. Although each of these platforms is targeting different demographics catering to personal, professional, and gaming communities.
Discord is also competing with well-known products including Zoom, Slack, Microsoft Teams, as well as traditional social media platforms like Facebook. Each of these competitors is continually innovating and expanding its offerings to capture and hold market share. Putting pressure on Discord's market position.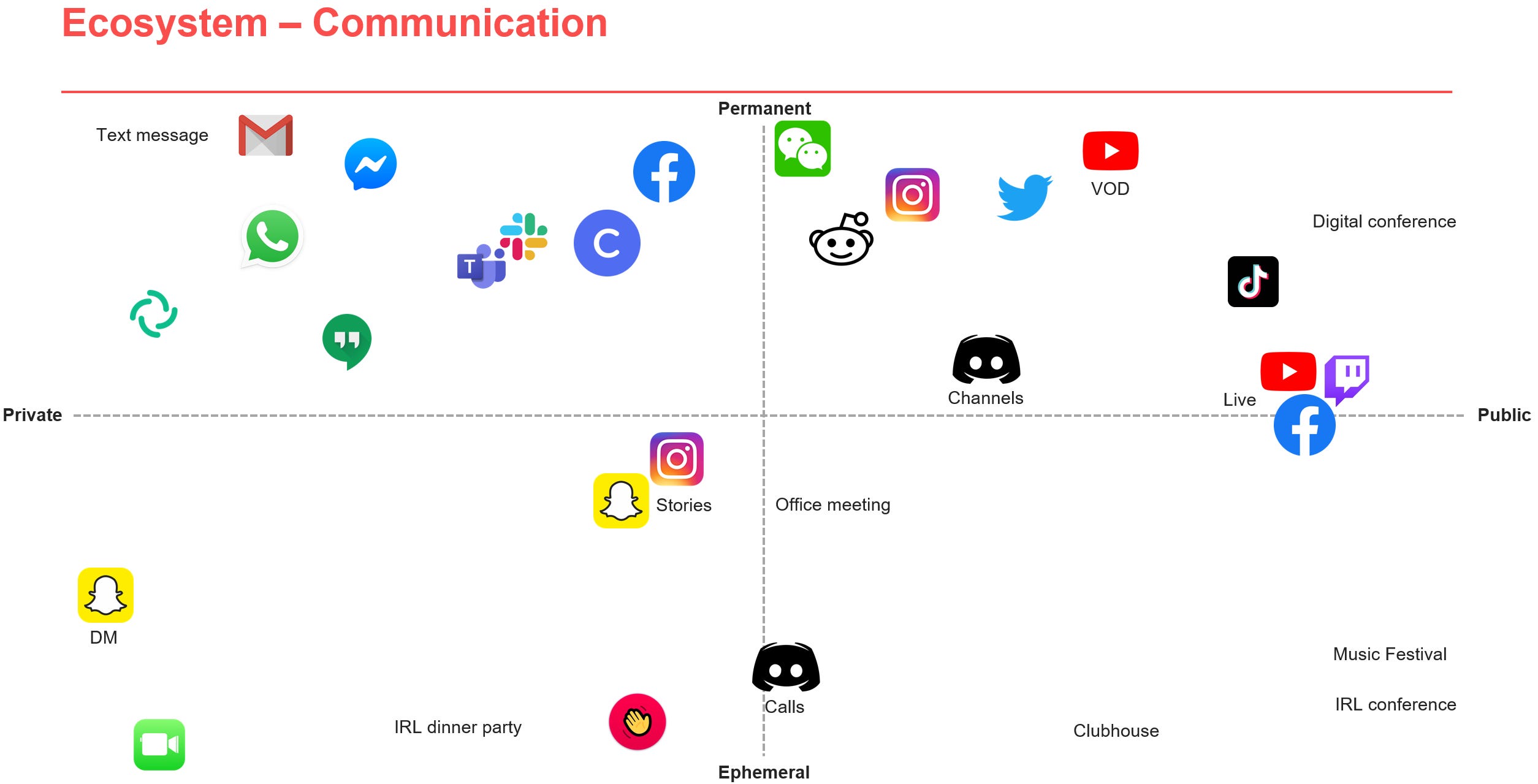 In 2023, Discord made a strategic move that pits them against another household name – Twitch. By offering a generous 90% split of revenue for content creators who use Discord to live stream, Discord's goal is to lure streamers away from Twitch.
Although there have been doubts from the streaming community about this new profit-sharing system it's clear Discord is serious about breaking into the live streaming market. The thinking behind the strategy is likely to use the enticing profit share structure to bring creators to Discord, once these creators make the switch and establish an audience it's extremely difficult for them to leave. It's unlikely the company will be able to sustain this aggressive 90/10 profit share model in the long term.
Is Discord's IPO a Good Investment?
I can't give you investment advice (sorry). Whether Discord is a good investment will depend on several factors, including your personal risk tolerance, investment goals, and view on the company's prospects.
Is Discord a public company?
No, Discord is not a public company. It is currently a privately traded company, which means that there are no shares of Discord that are being traded on any public exchange. However, this does not mean that it could not eventually become a public company.